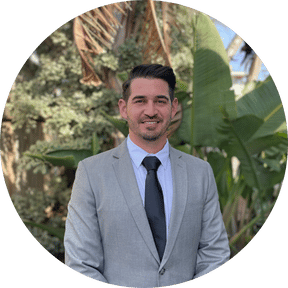 Daniel Miller
Broker
CALL: 858-302-2074
TEXT: 858-302-2074
EMAIL: dmiller@foagency.com
Daniel has a true passion for helping others achieve their goals. Over the last several years, he has worked with many small to mid-size employers in the construction, manufacturing, and healthcare service industries. By carefully considering various factors like budget requirements, recruitment & retention demands, and company culture, his recommendations are comprehensive and grounded in thorough analysis to form multi-year strategies for his clients.
Daniel's insurance career began in late 2016 when he represented a small insurance agency in San Luis Obispo as a Personal Lines Producer. Daniel joined AFLAC in 2017 as an Associate and worked his way to a role as a Broker Sales Consultant managing fourteen agents in the CA Bay Area by 2020. As the CovID pandemic took full effect, Daniel had the opportunity to advance his insurance career and permanently move to San Diego in 2021 as a Health Insurance Broker representing one of the largest independently owned agencies in California.  
➤ Insurance areas of expertise: 
Group Health Insurance | Group Dental Insurance | Group Vision Insurance | Group Life Insurance | Benefit Administration Platform Builds | FSA | HSA | HRA | Buy Sell Agreement | Human Resource Consultation (HR) | Affordable Care Act Compliance Support (ACA) | Employee Advocacy | Critical Case Managers | Dedicated Account Management | Insurance Technology | Workers' Compensation | Workers' Compensation EMOD Consulting
Daniel was born and raised in Santa Maria, CA. He earned an Associate of Arts Degree from Allan Hancock College before earning a Bachelor's Degree in Business Administration from Cal Poly SLO as a scholarship athlete on the golf team. Before beginning his insurance career, Daniel became an assistant golf professional at a local country club. He later became an official Professional Golf Association of America member after completing extensive training to earn his designation as a Class "A" PGA Professional. 
Today, Daniel still enjoys playing golf, writing songs and playing guitar, lifting weights, and barbecuing on weekends.